Property Choices Real Estate
Property Choices Real Estate
CALL: 203-767-0432
Why Choose Property Choices Real Estate?
Paula Bachman
, CT Licensed Real Estate Broker, CT Licensed Short Sale & Pre-Foreclosure Specialist
Paula is the epitome of integrity, energy, and hard work and strives to be the best in every aspect of her life. She grew up in Trumbull and has spent her 30+ year professional career in businesses throughout Fairfield County. Her career began in corporate asset management before moving to the Real Estate industry where her corporate experience has been an invaluable benefit to her clients who call on her for direction, guiding them through often complicated and intimidating real estate transactions. Paula has worked many aspects of the Real Estate industry representing investors, sellers, buyers, and working with attorneys and lenders. In addition to being a CT Licensed Real Estate Broker, she is the owner of Property Choices LLC, a Connecticut Debt Negotiation company, and holds a CT Debt Negotiation license.
NMLS No. 847754
Kathleen has garnered a reputation as a dedicated, honest and caring person. Her personal mission to
"live your life to help others live a better one"
spills over
into her everyday life by providing her clients peerless customer service and helping them make the best possible decisions. She grew up in Westport and has lived in several towns throughout Fairfield County. She truly believes Connecticut is the best place to live. Buying and selling homes of her own has afforded Kathleen a compassion toward her clients' journeys. As a second-generation REALTOR®, she combines her love for real estate with her passion for helping people. With 30 years' experience in real estate, insurance, marketing and business management, she possesses the ability to merge her expertise by bringing a strategic yet personable approach to the home buying and selling process. She has earned her SFR® certification (Short Sales & Foreclosure Resource) and SRES® designation (Seniors Real Estate Specialist) with the desire to helping the 50+ community. She is an Advisory Board Member on the
Connecticut Care Planning Council
who helps families deal with the crisis and burden of long term care. She has received education on topics such as tax laws, probate, estate planning and equity conversion strategies. Kathleen views guidance and representation as her top priorities and strives to be someone with whom her clients and colleagues can trust.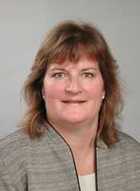 Sharon has been in the real estate business for over 25 years and is very passionate about her career. She works very hard to make the dreams of sellers and buyers become reality. With her extensive background in the industry, she is able to guide sellers and buyers alike through the real estate process. She continually gets repeat business with her happy past clients that know her work ethic. She always goes the extra mile to create a smooth real estate transaction. Sharon is very good at multi-tasking, organized and is very self-motivated, eager to learn and takes on new challenges. With her extensive background in marketing and advertising, she has a lot to offer her clients and customers. Sharon lives in Stratford with her husband of 31 years and has four wonderful children. She is active in the schools and community and is always willing to pitch in where needed and give of her time. She has chosen Property Choice Real Estate to provide a better customer support system for all of her clients and customers needs.
Teri grew up in New York City. Happily, for over 29 years, she has had the pleasure of calling Fairfield County Connecticut her home. She has lived in the towns of Easton, Monroe, Fairfield and the bustling city of Bridgeport. Living and experiencing everyday life in both the more rural towns of Connecticut, and also the fast pace life in the city of Bridgeport, has given Teri a wide-angle view of the many beautiful, unique characteristic and cultural diversities that our Beautiful State of Connecticut offers. Teri worked most of her career in the New York City Fashion Industry. She commuted from her home in Connecticut to work in New York City for more than 25 years, where she worked as an Apparel Pattern Maker for Designers. Teri's love for living in Connecticut was worth the commute, because she always knew she was coming home to beautiful Connecticut, where she finds peace and contentment. Teri received her Connecticut Real Estate license in 2007. She is a Member of the Greater Bridgeport Board of Realtors. Teri's experiences living in the various towns in Connecticut make her the right REALTOR® to help to satisfy your Real estate needs, whether it is to sell your home or purchase a home. She knows first-hand how exciting, and yet how stressful, purchasing or selling a home can be. That is why it is Teri's determined goal, as your REALTOR®, to strive to provide you with top quality service and to help you navigate through the process. She will listen attentively to your needs and wants, and she will offer you the tools you need to make the best-informed real estate decisions. She will work tirelessly to make your real estate transaction a smooth, happy, memorable and profitable transaction. Teri is a professional, hard-working, kind, respectful, detail-oriented, honest and caring person who will continually strive to provide you with top quality service as your RREALTOR®.
About Property Choices Real Estate
We have extensive experience listing and selling homes. Our sellers come from all walks of life, and many aren't sure of the best way to proceed. They may be looking to sell, but they need guidance. We want our clients to take guided steps and to understand all of their options to benefit them now and into the future. Once listed with us, your property will be listed on many major websites, including Realtor.com, Trulia.com, Zillow.com and Homes.com.
Buyers have specific goals and benefit from our years of experience. We work with buyers to find them the perfect home, one that fits their needs and desires.
​
We specialize in working with sellers who need guidance and assistance in deciding on the best way to proceed. Every situation is different, and if after reviewing your situation we determine that now is not the time for you to sell, we will advise you of other options.
Licensed Debt Negotiators
There are only a handful of Licensed Debt Negotiators in the State of Connecticut. If you have to navigate through difficult financial times, it is wise to work with an experienced, licensed company. There is NO CHARGE to you for our private consultations or our negotiation services. Let's work together to determine if you should STAY in your home, SELL your home, or work quickly on other LAST RESORT options.
Verify a License
Be certain you are working with a LICENSED professional. Visit the Connecticut Department of Banking website, or go to​ http://www.ct.gov/dob/cwp/view.asp?a=2233&q=449828, to verify a license or download a list of licensed companies.
NMLS No. 847754
REALTORS® who carry the Seniors Real Estate Specialist® (SRES®) designation are specially qualified to address the real estate needs of those age 50+. SRES® designees recognize that a home often is the largest and most precious asset that baby boomers and seniors have.
Thus, SRES® designees bring a unique approach to each transaction and interaction with clients. They not only offer a deep knowledge of real estate and the local and economic issues shaping market trends, but they're also educated on issues of particular concern to aged 50+ clients. Let our Seniors Real Estate Specialist guide you through this journey.